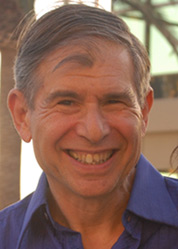 Bret Lyon, PhD, SEP, BCC is an educator, coach and consultant who has been helping people live happier, more productive lives for over 30 years. Drawing from his personal experience and extensive and eclectic study and training, he has developed Somatic and Emotional Mindfulness, his own unique approach to growth and healing Bret holds doctorates in both Psychology and Drama and is certified in Focusing and Somatic Experiencing®, as well as being a Board Certified Coach. His unique approach combines Attachment principles with Reichian breathwork, the Trauma Healing work of Peter Levine, Shame Theory, Feldenkrais body awareness, meditation techniques, Inner Relationship Focusing and Buddhist philosophy, as well as many other forms of Somatic Therapy. He has trained in EFT with Sue Johnson, AEDP with Diana Fosha and Coherence Therapy with Bruce Ecker. He has also worked extensively in Reichian Breathwork with Al Bauman, who worked directly with Wilhelm Reich.
Bret has co-lead Healing Shame workshops, to train therapists and other helping professionals on how to work with shame, in California, Oregon, Arizona, New York, Minneapolis, Toronto, Ottawa and Montreal. He has spoken on Healing Shame to every chapter of the association of California Marriage and Family Therapists in the San Francisco Bay Area as well as many graduate school programs.

Healing Shame: A Workshop for Therapists, takes place regularly in Berkeley and many cities across the US and Canada.
• Visit HealingShame.com to learn about Healing Shame Workshops.
Private Somatic and Emotional Mindfulness Coaching Sessions

We are born filled with energy, in touch with our impulses, able to easily experience pleasure, joy and peace. As we try to adjust to society's pressures, however, shame can get in the way. Shame is designed to lower affect. Every society uses shame to socialize. But this powerful force can go terribly awry, causing us to freeze and lose touch with our impulses and our sense of well-being. Our muscles tighten, our breathing becomes restricted and we lose the aliveness that was ours at birth. Instead of acting with our whole being, we feel split — with one part of us criticizing or interfering with another part. Rather than living in the present, we worry, figure and plan.
My private educational and coaching sessions are designed to help you gain greater understanding of what is holding you back and begin to release and heal the split within you and become whole again. You can unlearn self-defeating patterns and get out of your own way — and reestablish your natural connection with life. I work with concepts and belief systems as well as emotional and somatic mindfulness and energy flow.
Focusing Sessions
Focusing provides very gentle guidance in letting the client discover and work with his different parts and act from a "felt sense" rather than mental top-down process. I am a Certified Focusing Practitionner and offer Focusing sessions in person or by phone or skype. I work with the principles developed by my teacher, Ann Cornell, of "the radical acceptance of everything" and "only going as fast as your slowest part."
Reichian Breathwork
My work is based on 30 years of working with breath and energy flow. Some people find this pure form of the work most valuable. For those interested, I still offer Body, Breath and Being sessions, focusing on the breath and energy flow. These are based on my training with Al Bauman, who worked directly with Wilhelm Reich and on my many years of experience in this modality.
Quotes from inspiring people.
My office is in Berkeley, California. I am also available for sessions via Skype or phone. To find out more about private sessions, please email me at bret@healingshame.com or call 510-420-1441